HQ Kites - FLYING FLOYD "Flying Pig"
SKU:

hq-106519

UPC:

4031169302601

MPN:

Gift wrapping:

Options available

Shipping:

Calculated at Checkout
Description
Flying Floyd

Immerse yourself in the enchanting world of kite flying with the Flying Pig Kite by HQ Kites. Let this extraordinary creation lift your spirits and inspire the imagination of those who witness its magical flight. Perfect for outdoor enthusiasts, kite collectors, or anyone seeking a unique and delightful experience, the Flying Pig Kite is a true testament to the artistry and innovation of HQ Kites. Prepare to be amazed as you take flight with Flying Floyd and embark on a memorable journey in the sky.

Width: 130 cm

Height: 80 cm + 400 cm Kite Tail

Sail: Ripstop-Polyester

Frame: Fibreglass 3 + 4 mm

Line: incl.

Wind 6-38 kph

Age: + 5
New Easy Clip - easy "no knot" line attachment
No need to fuss with knots, just attach the easy clip onto the bridal point and your ready to fly.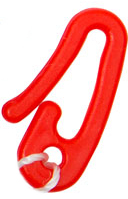 View All
Close