APRIL IS NATIONAL KITE MONTH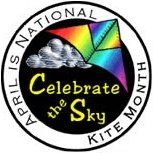 To help celebrate, we are offering you

FREE SHIPPING ON ALL WEB ORDERS OVER $100.00 (merchandise only).

All orders subject to $5.50 packaging and handling fee.

Available only for Canadian destination deliveries.
This offer only applies to regular courier delivery service only and is not available to any other special express service. Over-size packages or over-length packages (100cm or more) is subject to an additional $10.00 oversize fee. If necessary, we will contact you to confirm and collect for the additional shipping fee. Thank you for your understanding.
__________________________
Yeah!!!!!
New kites arriving everyday.
New kites have arrived and more are on the way.
Tons and tons of new kite products for 2017.
Prism Designs / Skydog / New-Tech / HQ Kites and Designs
Premier / Revolution / Gomberg kites / Into the Wind / In the Breeze / Weatherflow

______________________________
We make people happy!

Take time to enjoy the wind.
________________________________________________________________________________
We are your full service Canadian kite company located in Bentley, Alberta. We build kites, fly kites, sell kites, repair kites, teach at all levels, including school and corporate kite workshops.
The Kite Guys also build custom banners, windsocks and industrial wind direction indicators along with our own Canadian made high grade heavy duty powder coated rotating windsock frames.
Built tough for a tough life.

Have a look at our massive selection of kites.
Everything is in stock and we will send your purchases out
the very same day.
You can be flying sooner than you thought.

--------------------------------------------------------------------

* Need repairs or parts ? *

Now is the time to make repairs to those older kites you have hidden away in the closet or garage. We have plenty of kite parts available, including fiberglass and carbon spars in a variety of diameters and lengths. Fittings and end caps in plenty of different sizes. Bridle line, flying line, spectra, dacron, nylon, winders, line stakes. Guess who has it all? Your friendly neighborhood kite guy. Give us a call or drop a line, we are always happy to get you fixed up and out there enjoying your flying time again.

************************************************************

Proud Supporters of

Fly a kite, just for the health of it!
403-658-5483 email to: kiteguys@shaw.ca